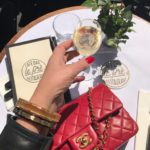 Dimanche en France nous votons ! Donc après avoir fait votre devoir citoyen et que vous cherchez un endroit pour vous restaurer, j'ai ce qu'il vous faut !
Sunday in France we vote! After accomplishing my civic duty, I have the perfect place for you to go grab a bite!
Une sympathique terrasse au soleil où vous pourrez comme moi prendre un café rapide ou déguster une assiette dont le chef à le secret ! En plus le Dimanche vous pourrez commander un brunch délicieux qui vous fera patienter jusqu'au résultat de ce premier tour.
An enjoyable terrace right in the sun where you can, just as I did, have a quick coffee or savor a dish the chef only knows the secret recipe to! And on Sunday, you'll be able to order a delicious brunch that will help you patiently wait tonight's electoral results!
Merci à Amélie pour son accueil et son conseil de l'omelette bio du jardinier, j'ai adoré !
Thank you Amélie for her warm welcome and her suggestion for the gardner's organic omelette, I loved it!
http://www.cafelepreparis.com/
https://www.instagram.com/lepresaintgermain/