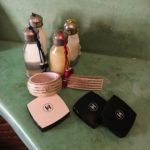 L'hiver a débarqué à Paris et c'est donc l'heure pour nos accessoires Chanel de s'échapper et se réchauffer sous le soleil de Marrakech !
Pour leur premier stop, nos jolis accessoires se sont ressourcés dans la médina au riad Dar Les Cigognes avant de séjourner aux 5 Djellabas un peu plus loin dans la palmeraie.
Suivez la suite de leurs aventures au prochain épisode …
For their first stop, our beautiful accessoires recharger their batteries at Dar Les Cigognes in the old town before heading to the 5 Djellabas in the Palmeraie.
To be continued …