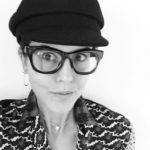 « Chaque reconversion a son histoire, après avoir été une brillante journaliste de mode, Delphine Hervieu décide d'ajouter une corde à son arc déjà bien rempli. Elle se tourne vers la gemmologie et passe avec succès ses examens qui lui permettent aujourd'hui de présenter en tant que créatrice une collection exclusive de bijoux qui sont vendus dans le monde entier et s'affichent dans les vitrines des plus prestigieuses boutiques. Ses créations se trouvent également sur son site internet.
http://instagram.com/otzar_treasure
www.otzar.co
www.maxfieldla.com
Je tenais absolument à saluer son talent avec mes petites questions …
1/ Es tu une femme Chanel ou Hermes ?
Ni l'une ni l'autre et certains jours les deux. Hermès fait partie de mon histoire de famille, ma grand-mère a travaillé pour cette maison dans les années 50-60; quant à Chanel, je suis nostalgique de la fin des années 80 et du début des années 90 quand Karl Lagerfeld osait le tout-or, le « bling » et le « bang » pendant que les autres couturiers se mesuraient sur l'échelle du minimalisme.
2/ D'où vient ton sac Chanel ou Hermes ?
Mon sac Chanel est un 2.55 en cuir vintage, un cadeau de ma mère pour mes 25 ans.
3/ Si tu devais l'échanger … Ce serait contre quoi ?
Contre le bien-être d'un animal qui souffre. Je souhaite à l'avenir agir pour la cause animale. J'espère qu' Otzar pourra dans un futur proche reverser de l'argent à une association de protection des animaux.
4/ Si tu étais un métier autre que le tien ?
Je serais bénévole à la SPA ou ailleurs… les besoins ne manquent pas.
5/ Tu as une baguette magique … Tu changes quoi ?
La relation que les hommes entretiennent avec la nature, les êtres vivants et les objets. L'homme consomme rapidement et ne digère même plus, il est devenu une machine qui ne desire plus, qui s'accapare et « zappe ». Une génération du zapping, individualiste à l'extrême illustrée par ces comptes Instagram voués à créer de véritables cultes de la personnalité. Tout cela est terrifiant, on ne vit que pour ce reflet de soi-même que l'on scrute dans le regard de l'autre… cet autre que l'on efface dans la rue, que l'on néglige sur le palier et que l'on « unfriend » au moindre malentendu.
1/ Are you a Chanel women or a Hermes women ?
None of them and sometimes both of them. Hermès belongs to my family's history, my grandma used to work for Hermes in the fifties and sixties. Regarding Chanel, I am nostalgic of the end of the 80's and beginning of 90's era, when Karl Lagerfeld would use yellow gold hardware, opt for the « bling » and the « bang » when other designers would leverage themselves on the minimalist scale.
2/ Where does your Hermes or Chanel bag come from ?
My Chanel bag is a 2.55 in vintage leather, a gift from my mother when I turned 25.
3/ If you could change it, what would you want ?
I would exchange it for the well-being of an animal that is suffering. I would like to be part of an organisation that stands for animal rights. I hope that in the near future Otzar will be able to give back some of its profits to a non profitable organisation that helps animals in need.
4/ And i you were a job (except yours) ?
I would be voluntary at the SPA (French association that protects animal) or elsewhere. They are plenty of charity options… unfortunately.
5/ If you had the power to magicaly change one thing, what would it be ?
The relationship people have with nature, living species and objects. Humans consume quickly and don't digest anymore, we became machines; we don't desire really, we buy and then pass on to the next thing.
It is a « zapping » generation, utterly individualistic illustrated by Instagram accounts that create cults of personality.
This is very scary to me… we live and act to observe the reflect of ourselves in others' eyes… others that we erase in the streets, neglect on our doorstep and occasionally « unfriend » when we disagree with them.
Thank you Delphine for this interview