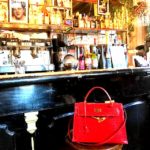 Voilà bien longtemps que je ne vous avais pas emmené en balade ! Suivez moi dans un endroit où les ritournelles se fredonnent toutes seules, Gainsbourg, Barbara et Edith Piaf se partagent le haut de l'affiche et un certain Michel Colucci y fit son premier spectacle ! Un choix qui lui porta bonheur ! Reconnaissant Coluche continua de fréquenter l'endroit avec fidélité.
It's been a while since I took you for an outing! Follow me where you will naturally start to hum, where  Gainsbourg, Barbara and Edith Piaf are present, and where a certain Michel Colucci (aka Coluche) had his first show! A choice that was a lucky charm for him! Grateful that he was given a chance, Coluche continued to perform here even after reaching stardom.
Les vieilles pierres ont en mémoire leurs illustres visiteurs et du sol au plafond s'étalent les souvenirs photographiques.
The old stones haven't forgotten the renowned visitors and from the ceiling to the floor, one can see the photographic evidence of this.
Nous sommes Au port du salut dans le quartier du Panthéon, ce restaurant vous propose une carte de produits frais délicieux et cuisinés avec talent.
We are at Au Port Salut in the Panthéon neighborhood, and this restaurant offers dishes made with fresh produce and cooked by a talented chef.
Le cadre fait penser à une ancienne cave, on imagine que l'esprit des chansonniers hante encore les murs de cet endroit si particulier.
The setting makes me think of an old cellar, where the spirit singers still lingers in this special place.
J'ai découvert sur un des murs le tableau de soie dessiné par un artiste qui en 1960 offrait à ce lieu un symbole de son activité, savait il que des années plus tard c'est sur des épreuves  destinées à la maison Hermès que Philippe Dauchez  poserait sa signature ?
I discovered on one of the walls a silk painting designed by an artist, Philippe Dauchez, who in 1960 gifted the restaurant with this beautiful work of art. Did he know that some years later, his signature would end up on a design he created for the Hermès house?
Si vous aimez diner en musique, tous les soirs un artiste se met au piano à partir de 19.30 !
If you like to dine with music, an artist plays the piano starting at 7:30pm!